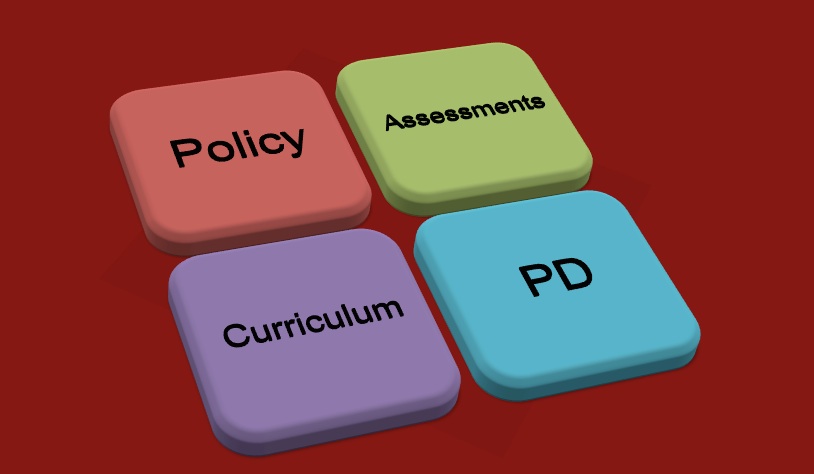 Goals
This tool helps district leaders to review the alignment of the various parts of their mathematics program. Do our tests, curriculum, instruction, staff professional learning opportunities, policies and practices all support our math program goals? This session guides leaders through an initial check for their district.
Users
District leadership. The coherence challenges for individual schools are similar in many ways, so this tool may also be useful for principals and their subject leaders
Introduction
What is program coherence? Student progress is largely determined by what happens in classrooms, where the teacher is the key mediator. Programs drive, constrain, motivate and support teaching through our policies, curriculum, assessments, professional development and leadership choices. Are these drivers of teacher action coherent with one another? If not, we pay a double penalty:
The program works against itself, tripping over its own feet, resulting in wasted effort and weak performance.
Personnel develop cynicism about the program and its leadership resulting in disengagement from the program.
How can we check on our program coherence?
This workshop will help leaders focus on the coherence of what reaches the classroom and drives learning. The key to understanding the realities of coherence and practical steps for improving program coherence is this: focus on what students do, what teachers do to help students learn from what they do and what the program does to guide and support teachers in a coherent direction.
One essential indicator of standards is the range of task types that students work on. If students spend most of their time doing low-level tasks, their achievement will be low level. High standards depend on putting the right variety of tasks in the assessments, the curriculum and the professional development. Of course, there is much more to a fine program than this but the range and balance of task types is a reliable probe - "the canary in the coal mine".
The diagnostic approach in this session is based on the leadership comparing a sample of the types of mathematical tasks found in the assessments and curriculum that the district uses with those used in high-performing jurisdictions, and described in the Common Core.
This 'Program Coherence Health Check', in the form of a 90-minute workshop, is the first step.
'Ways to Improve Program Coherence' is a follow-up tool that provides guidance on improvement options in any of the main action areas that this health check may suggest needs attention.
Session Outline
What is program coherence? estimated times
Key diagnostic probe: the range of task types
Expert, Apprentice and Novice Tasks
Looking at our program (the core, your prep - don't get here late)
Different kinds of math challenge
What have we learned? - a forward look